What is the Clark Material Handling Company?
Jump to Content
 
About the company: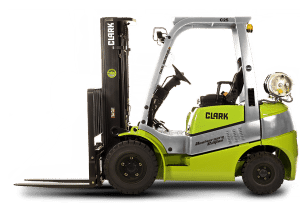 The Clark Material Handling Company has been a forklift manufacturer for over 90 years. The company is based in Lexington, Kentucky, and have a production plant in South Korea. Clark invented the world's first truck with a hydraulic lifting mechanism. It has five major product lines distributed worldwide.
What the Clark Material Handling Company sells
Clark produces and sells the following materials handling products:
Internal Combustion Forklifts – Gas and diesel models up to eight-ton capacity with pneumatic and cushion tire options
Electric Forklifts – Both 3 and 4 wheel models
Electric Reach Trucks – Sliding mast and panographic models available
Tow Tractors – Up to seven tons of towing capacity
Powered Pallet Trucks
Clark's electric forklifts, electric reach trucks, and tow tractors are 100% AC. Clark offers parts available throughout Australia and New Zealand, as well as through Clark dealers across the Asia-Pacific. They also produce PartsPRO, an electronic manual for owners who do their own maintenance.
Clark makes trucks with capacities from 1,500 to 18,000 pounds. It manufactures LPG, gasoline, dual fuel, and electric-powered models. There are currently over 250,000 Clark lift trucks operating in North America, with more than 350,000 lift trucks in use around the world.
Furthermore, safety has long been a major focus in Clark products. The company was one of the first heavy equipment manufacturers to require safety equipment in its vehicles. It continues to add innovative safety features as standard equipment on all its forklift trucks.
The history of Clark
In 1903, The George R. Rich Manufacturing Company designed a new drill to hold up under the demands of boring railroad rails. Within a year, the company moved to larger facilities. The business hired Eugene B. Clark to solve problems with the drill's metallurgy. Clark turned the struggling company around and renamed it Celfor Tool Company.
When the Lee Porter Axle Works plant burned to the ground in 1916, its chief engineer applied for a job with Eugene Clark. The Clark Axle was designed and became industry-renown for being well-balanced and well-built. Eugene Clark merged Buchanan Electric Steel Company to form Clark Equipment Company.
Clark builds the first IC materials handling truck
The Clark Equipment Company built the world's first internal combustion-powered materials-handling truck, the Tructractor. The Clark Trucktractor Company opened in Buchanan, Michigan in 1919, and Clark became an international exporter when he sent Trucktractors to France.
In 1922, Clark Equipment Company invented the Truclift, the world's first internal combustion lift truck to use hydraulics. And then, the Duat Tow Tractor was invented to pull trailer loads a year later. And so, Clark invented the world's first forklift by attaching tiering to a Duat.
Clark's safety innovations
Clark received the Army-Navy-Industry E award for equipment production during the war. Clark also became the first manufacturer to prioritize customer safety when it added warning labels to its lift trucks. From there, Clark continued to add new models and improve current ones. Safety features like seat belts and wing attachments were added to keep operators safe.
In 1990, Clark produced its one millionth forklift. Clark acquired the Samsung Fork Lift Company of Korea in 1998, and The Young An Hat Company acquired Clark Material Handling Company and Clark Material Handling Asia in 2003.
Finally, Clark Material Handling Company opened its Lexington, Kentucky headquarters in 2005, where it operates from today.
Who owns Clark Forklift?
Clark Forklift's parent company is the Young An Hat Company, which is a private company located in Bucheon-City, South Korea.
Clark forklift links*
Clark additional links*: